Brit-Yard | A conversation with Brit-Stitch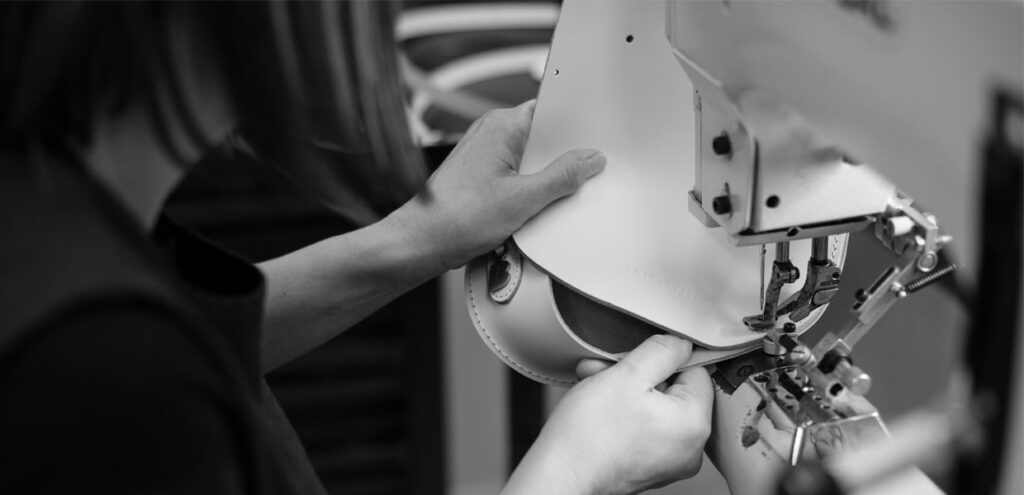 We chatted to the lovely team at Brit-Yard recently about everything Brit-Stitch. Grab a cuppa! 🙂
What is the story behind your brand name – Brit-Stitch?
Brit – Proud British manufactures of quality goods
Stitch – Our heritage of saddlery and satchel making all involved stitching of leather. This craftsmanship is the core of our new adventure.
When did you launch and what was the inspiration?
Our love affair with leather goes back a long way. It's a family thing – Peter Jones (not the Dragon!) started it and his children (that's us!) are bringing it to a new generation of style lovers and vintage coveters.
It was 1967, when master craftsman Peter Jones started his journey in a tiny workshop as a saddle and harness maker. Peter was always looking for new things to make and try his hand at.
One day Toby, the local milkman popped in for a chat and asked Peter to make him a new leather cash bag for his milk round and Peter didn't disappoint. He hand stitched a beautifully crafted, strong bag, built to last.
In 2010, Toby brought his bag back to us for a replacement strap. With 43 years of history in our hands and our father's love of making beautifully crafted items, we decided it was time to give the vintage bag a thoroughly modern makeover, using the traditional skills we are so proud of.
We use skills passed down to us to make an array of accessories that match heritage with high fashion.
Tell us a bit about your amazing team?
Our clever team make sure every single bag is perfect – seamless stitching, beautiful buckles and a clasp that you'll keep clicking (really, it's quite addictive).
Many of our team have worked in the leather manufacturing industry with us for decades. Our team may be small, but they are mighty!
What is it that you believe sets your brand apart from others?
Staying true to tradition is what makes us different, and it helps us create accessories our customers adore.
How does your brand play it's part in supporting other British businesses?
We actively pursue British businesses when looking for suppliers and services. We also try and support local business wherever possible.
You would consider yourselves to be an 'Independent British Brand' because…
Brit-Stitch bags and accessories are lovingly made in Britain, using the finest leathers in a rainbow of colours. Our factory is located in the historic market town Abergavenny, in beautiful South Wales.
What steps does your brand take to ensure that you are creating products in a sustainable way?
All Brit-Stitch products are made to order so everything is produced on demand only. Every item is fully made in house where we have full transparency of every process. All fittings and materials are purchased through certified producers.
Briefly describe your design & manufacturing process?
When designing new products we merge our heritage and archive with modern needs. We create a product for the now but they carry a beautiful nostalgia.
Every product is designed, made and packed in house in our factory here in South Wales. We are based in the market town of Abergavenny where our Father started over 50 years ago.
What would you like consumers to really know about your brand?
That your items are made in the UK with pride and love by our family run business. 50 years of experience in the leather product industry, ensures that quality is at the heart of every Brit-Stitch product.
What is it that attracted you to the BritYard concept?
BritYard is a celebration of British manufacturing and craftmanship and we are delighted to be sat alongside an incredible array of beautiful products.
Our five BritYard brand values are; Britishness, Trust, Sustainability, Individuality & Locality. For each of these, please could you share in one sentence how your brand aligns with these values:
Britishness – Made with love in Abergavenny, South Wales, Great Britain
Trust – When we say we have heritage, we really mean it!  We have over 50 years in the industry so you can be assured quality is at the heart of everything we do.
Sustainability – We aren't here for fast fashion, we make our items to order specially for you to wear season after season.
Individuality – We stay true to our tradition and that's what makes us unique!
Locality – We are proud welsh manufacturers using local and UK based services and supplies wherever possible.
We are delighted to be stocked on Brit-Yards wonderful site – a celebration of UK independents! Go check them out!